Rexel's purpose: Electrifying solutions that make a sustainable future possible
---
Rexel unveils its purpose, fully aligned with its strategic roadmap, at the occasion of its 2022 full-year results announcement.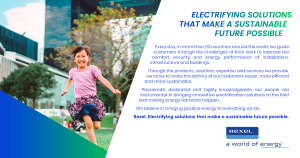 Each single word conveys a meaning specific to Rexel:
« Electrifying »: A reference to electricity and electrification, but also to the passion of our teams.
« Solutions » refers to both products and services.
« Sustainable future » relates to the finality of all our actions. Our ESG focus as well as new electricity usages, innovation, digital advanced services are strong internal drivers.
« Make possible » is about our unique role in the value chain. We partner with suppliers to propose the best products and push new services to the market. We support energy professionals and help them spread the solutions which make the energy transition a reality.
Rexel's purpose is the result of close collaboration of around 7,000 employees where the Group operates, and reflects the Group's contribution to the world: provide the solutions and services that will accelerate electrification in personal and professional spaces, infrastructures, buildings and mobility means – including in the domains of HVAC, photovoltaics, electric mobility and industrial automation.
Find out more about Rexel's purpose statement, manifesto and video:
Rexel's purpose is conveyed through the Group's strategy and commitments. Learn more:
. PowerUP 2025, Rexel's strategic 2022 – 2025 roadmap
. Rexel's sustainable development strategy