PowerUP 2025: Rexel's new strategic roadmap
---
Accelerate electrification
According to the International Energy Agency (IEA), the share of electricity in the world's energy consumption will have doubled by 2050. The Net Zero agenda and its resulting action plans, and the need to secure energy supplies, are encouraging a greater reliance on decarbonized energies and electricity, an energy that is both clean and safe to use.
Within this favorable context, Rexel, bolstered by five years of transformations that have strengthened its business model, is fully equipped to seize the growth opportunities at hand.

(1) Others incl. fossile fuels, hydrogen-based, modern bioenergy and biomass
The Group is therefore preparing for a new phase of profitable growth for the years to come. PowerUP 2025, its new strategic roadmap announced on June 16, 2022, establishes financial and environmental objectives for 2025 that are robust, balanced and ambitious.
"Rexel is poised today to power up its profitable growth story. The combination of a historical acceleration of electrification, the increasing importance of scale and services and the benefits of Rexel's deep transformation over the past five years offers a unique window of opportunity for Rexel to step up its performance."
CEO of Rexel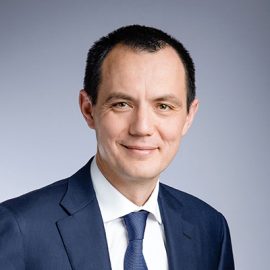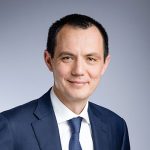 "By unlocking further value in our core model and becoming a leader in ESG, energy transition solutions and services, Rexel, with the support of its highly committed teams, is set to deliver higher organic growth and enhanced profitability over the medium-term and will also create further value for its shareholders through disciplined bolt-on acquisitions and a share buyback program."
Guillaume Texier, CEO of Rexel
A solid business model
Rexel has undergone a profound transformation over the past five years. The group has refocused on its core business via an asset disposal plan started in 2017 which enabled it to deliver an historic performance in 2021.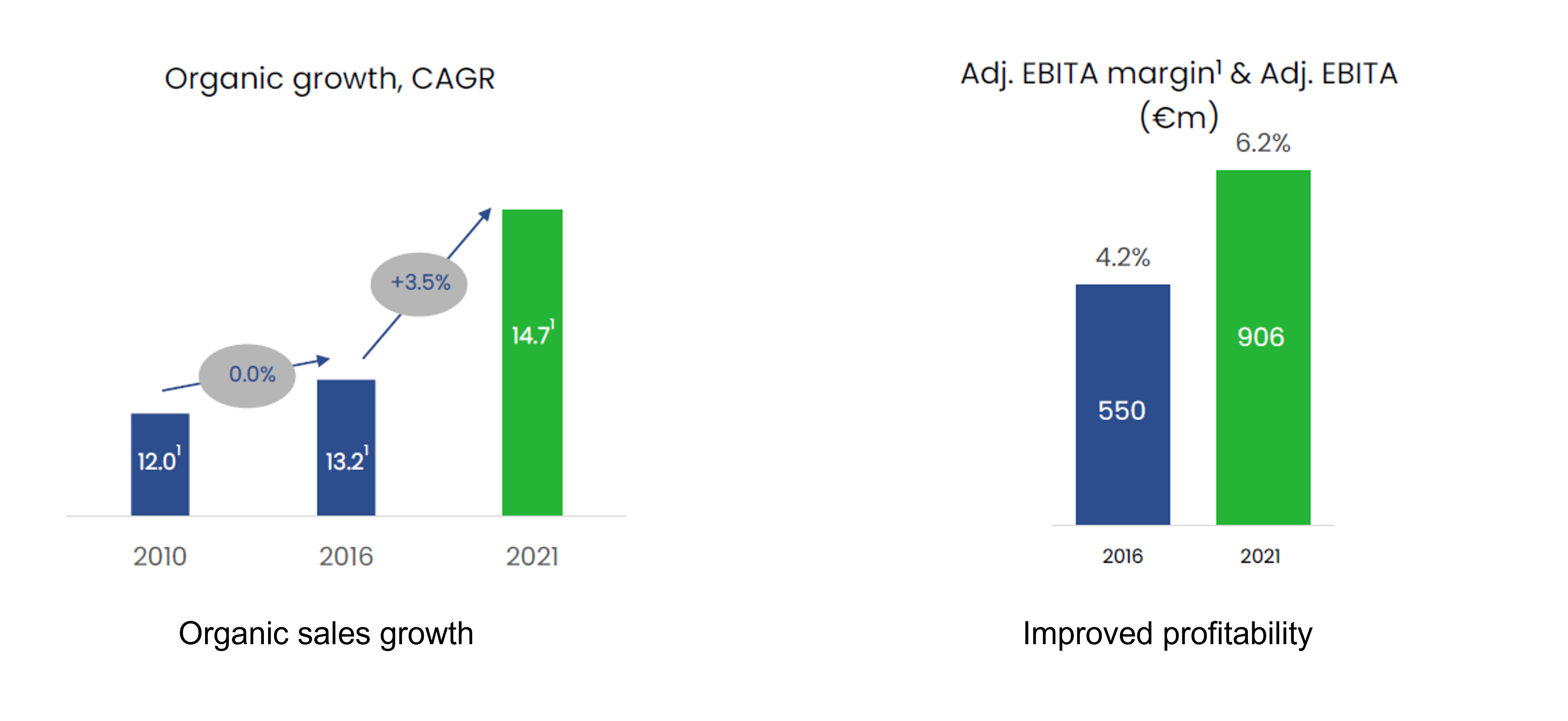 > The results of the strategy deployed over the past few years led to 15.6% sales growth in 2021 on a same day basis, i.e. €14.7 billion, the highest annual growth rate ever attained.
> The adjusted EBITDA of 6.2% constitutes the highest profitability rate reached since the Group's Initial Public Offering.
> The historically low debt ratio enables the Group to recover the financial leeway to accelerate acquisitions. Rexel's mergers and acquisitions approach is based on three objectives: strengthen its market share, extend the Group's positions to adjacent skilled trades and, finally, acquire and develop high value-added models.
Excellence on fundamentals in every area
Business model optimization, supply chain excellence and reinforcing digital are key objectives of the first PowerUP 2025 priority.
Business model optimization
Thanks to the excellence of its supply chain and to the solidity of its supplier relationships, Rexel is particularly well positioned to support industry players in the area of decarbonization. The Group intends to deploy its processes, tools, and best practices on an even larger scale in order to accelerate its performance.
Logistics and digital services for customers in every sector
As part of its omnichannel approach, Rexel has enhanced its logistics capabilities in order to cover all of its customers' business segments, in particular via the progressive roll-out of same-day delivery service. The Group has developed innovative supply chain models to help its customers integrate environmental standards, with 24/7 solutions available via branch automation for example. Rexel's aim is to triple the number of automated distribution centers by 2025, from the six that exist today
Logistics
> An omnichannel approach for all customers, in all market segments
> An innovative supply chain
> Progressive roll-out of same-day delivery service
> New automated models
Digital
The Group plans to accelerate the deployment of solutions based on digital and artificial intelligence in order to improve its digital services for its suppliers and its customers.
Here are a few examples:
Next Best Offer
Suggest suitable complementary products to customers. The "Next Best Offer" tool develops cross-selling by offering complementary items to be added to the shopping cart. Additionally, throughout the e-shopping journey, it recommends products and solutions that the customer frequently orders or items similar to them.
Sales Alerts
Predictively limit the churn rate. By using an algorithm, sales teams are able to identify at-risk customers, which enables them to respond appropriately. Sales Alerts therefore represents a sales performance tool that also improves customer proximity.
Branch Assortment ("Gamme Agence") 
"Gamme Agence" is a predictive tool for optimizing in-branch SKUs. It relies on artificial intelligence as well as on the practical experience of branch managers. The benefit is two-fold: the branches that use the tool enjoy smoother inventory management, in addition to greater certitude that they are providing customers with the right product at the right time.
The Supplier Portal, or data and digital for better supplier relationships
The Supplier Portal is designed to share qualified data with Rexel's suppliers in order to assess their performance in terms of customer profile, products and transaction channel. Benchmark indices allow them to obtain operational comparison insights, while complying with competition law. Concretely, the Supplier Portal helps them to better understand the performance of their offerings and to adjust them if necessary.
"The share of digital in total sales is expected to double and reach 50% by 2027 versus 24% in 2021."
CEO of Rexel


Three value propositions
Services and solutions are based on the three value propositions defined by Rexel: Proximity, Projects and Specialty.
| | |
| --- | --- |
| Proximity | This value proposition is based on heightened presence thanks to a dense network of branches, a systematic omnichannel approach and continuous improvement of the level of service. |
| Projects | This value proposition is based on a specific process of products and solutions offering, supported by a catalogue of services for industrial or commercial projects. |
| Specialty | This value proposition relies on a capacity to provide advice and satisfaction to clientele with very specific needs concerning characteristic products and solutions. |
Develop ESG leadership
Become a distinct ESG leader in the energy transition's high-growth markets: this second key priority of PowerUP 2025 is constructed in three pillars.
1
Promote ESG among its suppliers and customers
2
Propose advanced services
3
Develop energy transition solutions for fast-growing segments
Promote ESG among its suppliers and customers
At Rexel, promoting ESG involves the entire value chain, from its supplier relationships to eco-efficient solution recommendations for customers.
| | | | |
| --- | --- | --- | --- |
| Suppliers | | Customers | |
| 70% of them signed a Sustainable Supplier Charter in 2022. | | Around 50% of products sold by Rexel are eco-efficient. | |
| 80% of the Group purchasing value with its suppliers is audited by EcoVadis. | | Thanks to Product Environmental Profiles (PEP), customers have access to environmental information about a growing number of products. | |
In 2022, Rexel launched its Carbon Tracker, a decision-making assistance service based on a detailed assessment of the carbon footprint of products intended for purchase. The resulting environmental impact is therefore known prior to the start of construction work.
Rexel received the "Energy, Climate, Decarbonization" award for its Carbon Tracker tool at the 2022 Sustainable Industry Awards organized by "L'Usine Nouvelle" (a French reference business and industrial magazine).
For more information, please click here.
Propose advanced services
For each of its three main end-markets (residential, commercial, industrial), Rexel's services offering includes six aspects. Logistics, sustainability, expertise, integrated services, finance and software aim to strengthen existing customer stickiness, to attract new customers, to optimize their share of the portfolio, and to develop additional sources of sales.
Develop energy transition solutions for fast growing segments
HVAC, photovoltaics, electric mobility, and industrial automation (15% of Rexel's sales in 2021) represent market subsegments that are going to progress considerably over the next few years. Advanced expertise will be needed to support customers in assimilating new services in these areas. The Group's aim is to significantly develop its service propositions in these segments by 2025 as they are expected to grow twice as fast as that of its other markets in the years to come.
Energy transition and its associated services, ESG and innovation, further developments in digitization and supply chain, best practice sharing and the goal of becoming a preferred employer in the industry are the main priorities of PowerUP 2025 and of its value creation potential.They are based on Rexel's core values: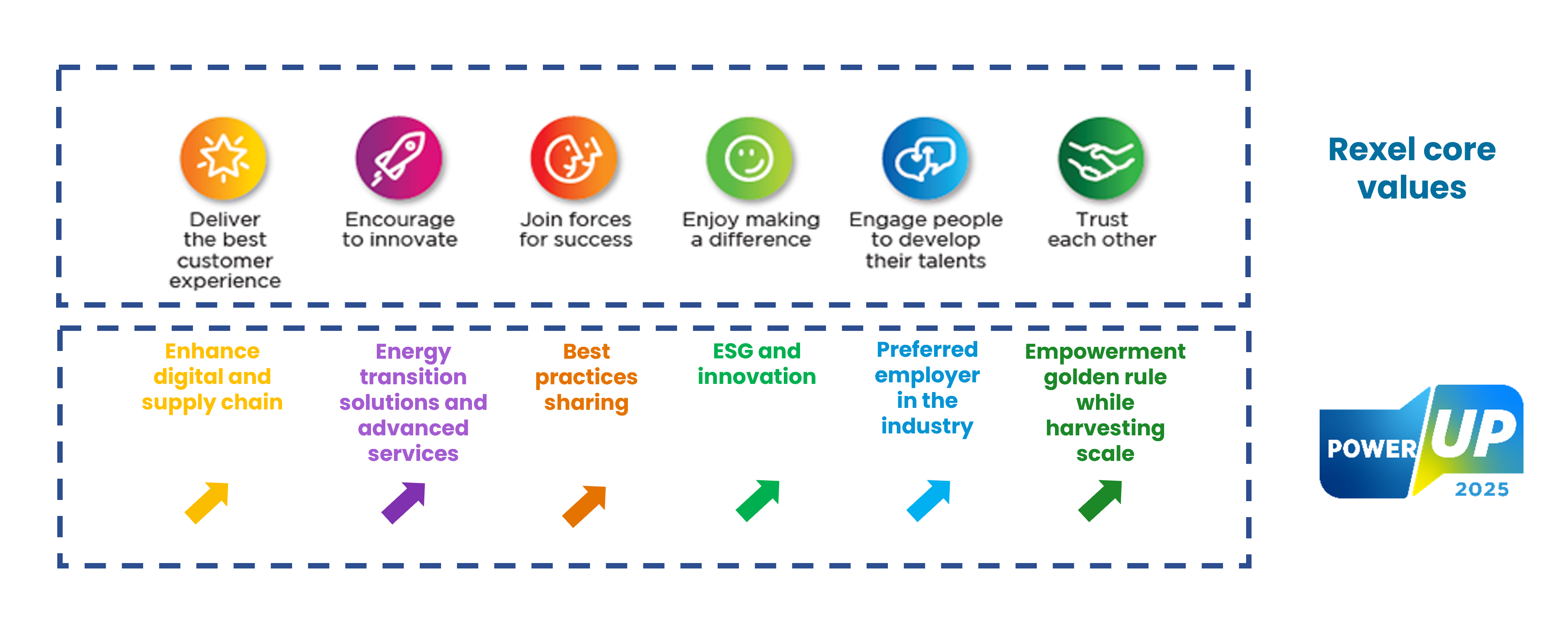 Rexel's 2022-2025 four-year targets:
Robust medium-term objectives
a. Robust medium-term objectives: Rexel is raising its 2022 objectives, following a better-than-expected start to the year in all geographies and higher inflation, in an environment that remains uncertain. 
Same-day sales growth of between 7% and 9% (vs 4% to 6% previously)
Adjusted EBITA margin of c. 6.7% including 50bps of positive one-off effects (vs above 6% previously)
Free cash-flow conversion above 60%
b. 2022-2025 four-year targets: Robust medium-term
Same-day sales growth of c. 4%-7% on a Compound Annual Growth Rate basis
Adjusted EBITA margin of between 6.5% and 7% in 2025
A well-balanced capital allocation with:

Capex to sales of c. 0.9% over the period
A yearly payout to shareholders of at least 40% of recurring net income
Bolt-on acquisitions adding up to €2 billion in sales over the period
Share buyback of around €400m over the period

An indebtedness ratio of around 2x
c. More ambitious ESG targetsThe Group's Scopes 1 and 2 targets are upgraded to a 60% reduction in CO2 emissions of our operations (vs. 2016) from -35% in absolute terms.The Scope 3 target is raised to a 60% reduction in CO2 emissions from the use of products sold (vs. 2016) from -45% in intensity terms (equivalent to an upwards revision of our guidance to -45% from -31% in absolute terms).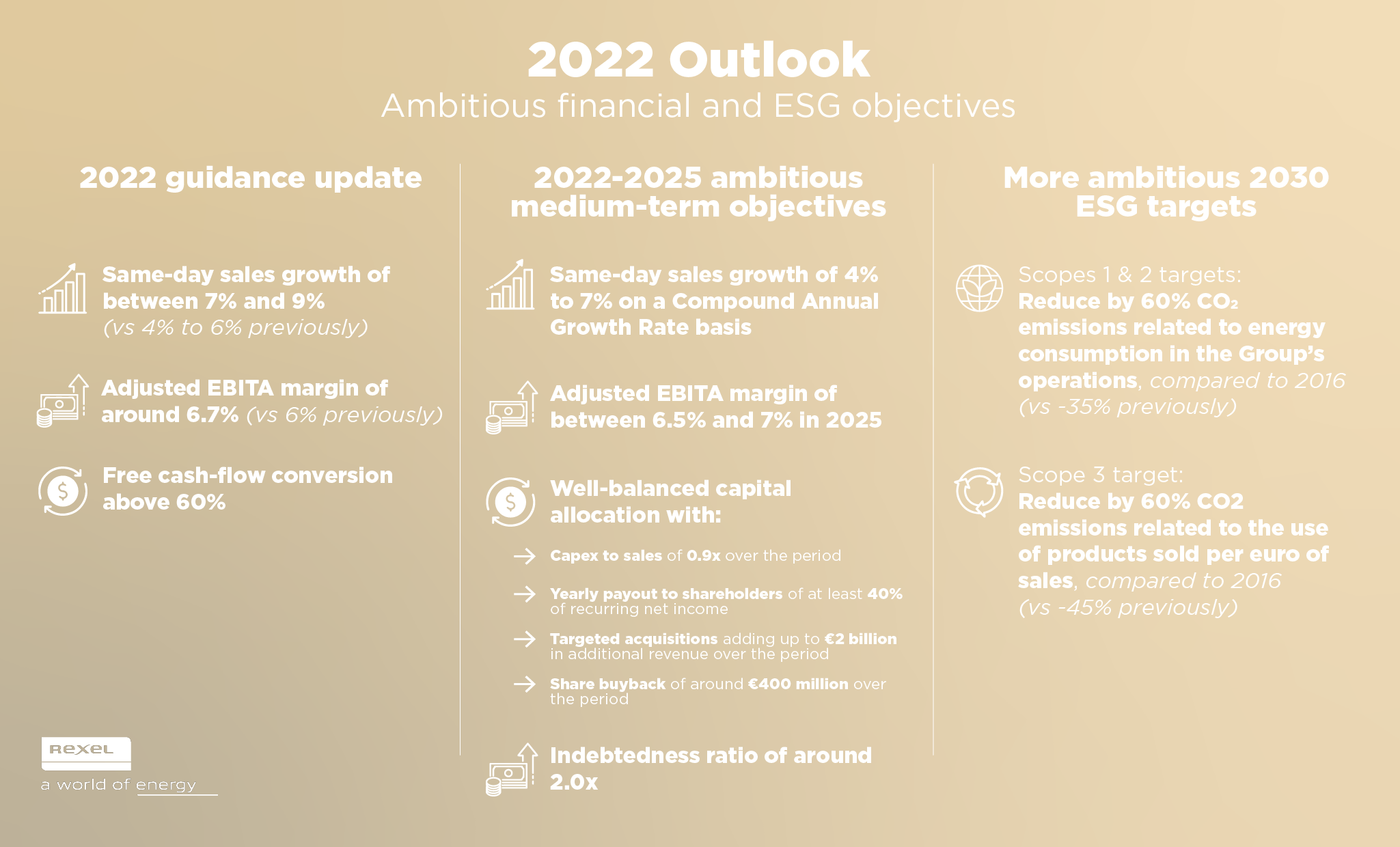 This strategy was announced during Rexel's 2022 Capital Markets Day. Discover the replay.
Related documents
Presse Release - Powering Up Rexel, new strategic roadmap
PDF — 261 KB
Download
Presentation - Capital Markets Day, June 2022
PDF — 6 MB
Download