Multichannel
Designed to guarantee a seamless, straightforward and secure customer experience, the multichannel organization is central to Rexel. Wherever you are, regardless of the channel you use, no matter what time of day, and whatever your request may be, Rexel has a quick and relevant response.
---
650,000+
customers worldwide
24/7
Solutions available 24 hours of every day
30 km
On average, there's a Rexel branch within 30 km of your company or worksite
Customer focus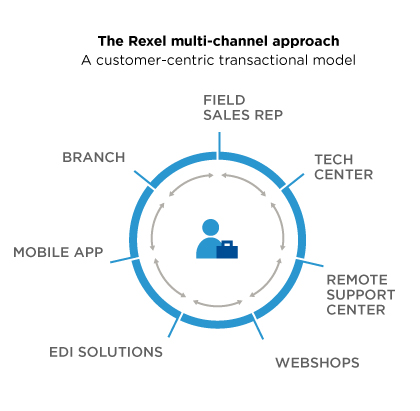 The branch: a dedicated meeting space for Rexel and its customers
Traveling sales executive: your field contact point
Technical center: advice and design for your special projects
Remote support: technical and administrative assistance
E-commerce: access to the full range of solutions and products distributed by Rexel
EDI solutions: transactions synchronized with your information systems
Mobile app: essential functions wherever you need them
The choice is yours
Rexel's multichannel structure provides you with a seamless global information and services system. Online, by phone, in-branch or on-site: all you have to do is choose the point of contact that best suits your needs. All your points of contact at Rexel have immediate access to your centralized customer file, so that they can provide you with relevant and personalized advice based on full details of your business to deliver optimum service.
A local network
4,000
items permanently available in branches
35,000
items available next day
With 2,000 branches in 26 countries, Rexel advice and solutions are readily available worldwide wherever you may be. The benefits of using a Rexel branch:
Easy accessibility close to your business locations
A personalized welcome from expert sales advisers
Self-service areas for a completely independent buying experience
Showrooms, information points and training centers to find out more about our latest innovations and how to use them
A range of tailored e-commerce solutions
E-commerce is a key part of the Rexel offer, with a complete range of tailored solutions for the design, implementation and management of your projects.
Remote solutions
Our customer support centers are accessible anywhere, anytime, online or by phone, whatever you need us for (questions, orders, installations, etc.). The specialized advisers who respond to you have immediate access to your full customer file in order to provide you with relevant personalized support.