Nathalie Wright
Chief Digital, IT and Sustainability Officer
---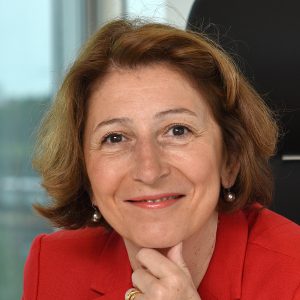 Nathalie Wright has joined Rexel in 2018 as Group Director Digital and IT Transformation and member of the Executive Committee.
She is Chief Digital, IT and Sustainability Officer.
Prior to joining Rexel, she was Vice President Software and member of the Executive Committee of IBM France. She has spent 8 years at Microsoft France as Head of the Public Sector Division and, starting 2011, as Managing Director in charge of the Large Enterprises Division and strategic partnerships.
Before that, she spent 5 years at AT&T as General Manager France, Southern Europe and Middle East and held various management positions at Verizon from 1999 to 2004.
She began her career in 1987 at Digital, then at Newbridge Networks, where she held different responsibilities in finance, marketing and operations.
She is a Non-Executive Director at Keolis and Quadient Boards, involved in various shareholding contexts with an expected contribution on digital transformation, sustainability, and innovation.
Nathalie Wright is also a member of the Women in Leadership association Board and a member of  the ChapterZero association.
She holds a Master's degree in economics, graduated from IAE Paris and INSEAD.