Our Ambition
Rexel 2020 offers a comprehensive strategic roadmap for profitable growth aiming at positioning Rexel as the value-added partner of preference for its clients and vendors and enhancing long-term value creation.
Rexel's 2020 ambition is part of Rexel's broader aspiration to create sustainable economic, environmental and human value for all its stakeholders and fully leverage the equity of its "Rexel, a world of energy" brand proposition.
With such a "triple play" commitment, Rexel enhances its corporate responsibility and positive impact on business, planet and people.
Becoming the value-added partner of preference is a clear ambition
Rexel continues its transition from an electrical distributor to a value-added partner of preference for its customers, by
moving from a branch-centric and generalist organization to a fully customer-centric, multi-channel and multi-specialist model,
offering a suite of innovative, sustainable and customized services
providing cutting-edge advice and day-to-day reliable solutions.
Rexel's 2020 strategic roadmap for profitable growth is structured around four business imperatives
.
1 – Building on a market-leading position to seize growth opportunities
Rexel has a strong franchise as a strategic partner for its suppliers and customers with leading positions in major geographies and a balanced mix of end-markets.
In recent years, Rexel has significantly upgraded and invested in its business model and reinforced its commercial and operational capabilities around the world, thus creating a unique platform to capitalize on new trends, technologies and applications:
the energy transition is generating a broad spectrum of new business opportunities along the value chain,
the Internet of Things is turning connectivity into a converging space of new digitally powered solutions,
and the drivers of urbanization are changing the landscape of building renovation and new construction.
Rexel's proven track record and strategic focus in these areas position the company to outperform the market thanks to targeted investments and enhanced capabilities.
2 – Implementing a differentiating customer-centric strategy
Rexel's implementation of a genuinely customer-centric strategy is increasingly a source of competitive differentiation.
Rexel has been accelerating its evolution from a branch-centric to a truly customer-centric multi-channel business model designed around specific customer segments. This leads to higher contact frequency with customers at multiple touch points as well as higher transaction value and better service levels, with increasingly connected customers.
At the same time, Rexel is in a transition from a generalist distributor into a multi-specialist value-added partner, serving the market in a differentiated way through six distinct Customer Delivery Models.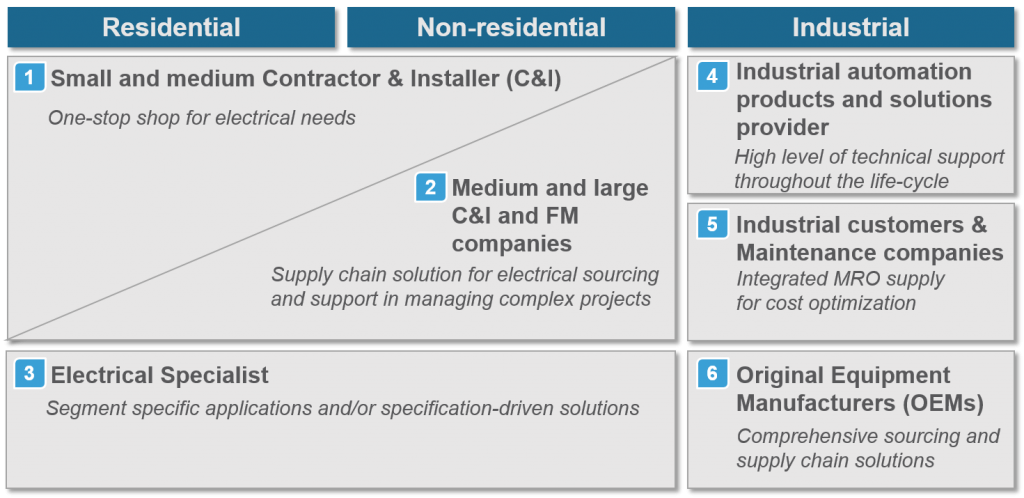 3 – Driving innovation in marketing, digital and operations
Rexel's 2020 roadmap embraces innovation as a critical success factor and this heightened focus will be reflected in its capital expenditure.
On the marketing front, Rexel's new value propositions, ranging from its Energeasy applications to its industrial automation solutions, as well as its investments in value-based pricing and project management systems, confirm the focus on customer-centric innovation.
In the digital area, a comprehensive e-business platform is in place to support Rexel's digitally powered multi-channel business model, while new developments such as Rexel Digital Applications are providing customers with software-enabled tools to improve productivity.
In operations, a new IT and Logistics structure is in place and ready to serve as a springboard to further optimize back-office and supply chain performance and offer differentiating logistics services.
4 – Accelerating profitable growth through targeted M&A
Capitalizing on its track record of acquiring and integrating bolt-on acquisitions (24 acquisitions since 2012 representing €1.2bn in acquired sales), Rexel will actively implement a two-pronged M&A strategy aimed at:
Expanding into new growth areas and/or adjacencies,
Strengthening its position and/or leveraging scale in core markets.
Rexel intends to accelerate its M&A strategy through targeted accretive acquisitions with a budget of around €1.5bn over the 2016-2020 period. This level of investment could generate cumulated additional sales of over €2bn.
Rexel 2020 Targets
Rexel aims at creating economic, environmental and human value for all stakeholders.