Sébastien Thierry
General Secretary and Secretary of the Board of Directors
---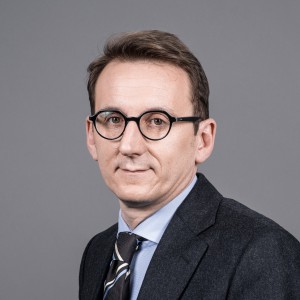 Sébastien Thierry has been appointed General Secretary and Secretary of the Board of Directors, and member of the Executive Committee in November 2016.
He joined Rexel in December 2014 as Vice President, Group Legal Affairs.
From 2009 to 2014, Sébastien Thierry was General Counsel and Compliance Officer at Airbus Defence and Space CIS (Communication, Intelligence, and Security). His duties also included being Secretary of the Board.
Previously, Sébastien Thierry spent a large part of his career at the Alcatel Group, where he started in 1998 as a lawyer in their Indonesian business. After returning to France in 1999, he was in charge of legal affairs for the "Segment Sol" business unit of Alcatel Space. In 2003, he moved to England to work as Senior Legal Counsel during which time he reorganized the company's Europe Star Ltd. joint venture. At the end of December 2004, Sébastien Thierry joined Alcatel Shanghai Bell as VP Legal Affairs, based in Shanghai. Three years later, he was promoted to Southeast Asian VP for Legal Affairs for Alcatel Lucent where he was responsible for the implementation of the merger of Alcatel-Lucent and the integration project.
Sébastien Thierry has a double degree in French and German law from "Université de Paris X" and also holds a DESS (Masters equivalent) in International Business Law.