Ethics and the fight against corruption
The Group's approach to ethics provides the professional practice framework for all 27,000 Rexel employees and is built on a basis of shared principles.
---
Our ethics policy
Rexel's approach to ethics is a continuous improvement process. Its aim is to safeguard the Group's reputation and strengthen its partners' trust, and also contributes to its sustainable growth. The implementation of this policy is supported by the Ethics Guide, ethics correspondents and regular information campaigns.
The Ethics Guide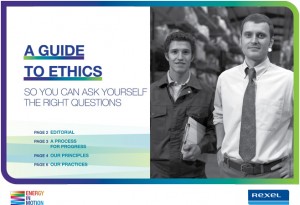 Issued to all Group employees, the Ethics Guide specifies the principles and practices of professional ethics at Rexel and details the proper conduct to adopt in various situations, including confidentiality, purchasing, gifts, conflicts of interest and harassment. First published in 2007, it was updated in 2013 to incorporate compliance with the principles of the United Nations Global Compact, competition law provisions, and good practice recommendations on the use of social media.
Discover Rexel's Ethics Guide in PDF
PDF — 4 MB
Download
The ethics correspondents
The ethics correspondents in the Group are responsible for coordinating and implementing Rexel's ethics policy. All can be contacted directly and anonymously using an online contact form for use by anyone – whether an employee or not – wishing to report a problem or ask a question about Group business practices.
Contact a Rexel ethics representative
The fight against corruption
Rejecting corruption in all its forms is a cornerstone of Rexel's ethics policy.
Rexel is committed to refusing to resort to any illicit procedures or actions for the purpose of obtaining advantages or exemptions outside the scope of local or international law.
Rexel has thus developed a body of rules and tools designed to control corruption-related risks for all of its activities under the direct responsibility of the Group Risk Manager and Chief Compliance Officer:
A collection of guidelines for combating corruption, inspecting commercial transactions and combating money laundering was published in 2014 by the Group for use by all its subsidiaries
To facilitate understanding and application of these principles, a dedicated section of the Group intranet is available to all employees: it includes a summary of the applicable regulations and the principles set out by the OECD and in the UN Global Compact
An anti-corruption e-learning module has been available to 22 Group operating countries since 2015