Improving access to energy efficiency for all
At the same time as digital technology is enabling unprecedented opportunities for progress in the world of energy, around 1.3 billion people have no access to electricity and 100 million Europeans are living in fuel poverty. As progress in energy creates value, not only for economies, but also for society as a whole, Rexel applies its expertise and skills to bringing energy efficiency within the reach of everyone, and has created its own corporate foundation.
---
1. Fighting fuel poverty: the Rexel Foundation for a better energy future
2. Community projects implementation
3. Social innovation in support of energy progress
4. Improving knowledge and awareness
5. Our employees' projects
6. Rexel's social commitment
---
1. FIGHTING FUEL POVERTY: THE REXEL FOUNDATION FOR A BETTER ENERGY FUTURE
Fuel poverty shackles human, economic and social development. The Rexel Foundation was created in 2013 with a clear mission to combat such issues through promoting access to a better energy future for the greatest number of people as possible. This demonstrates the Group's resolution to create a positive impact through its expertise in energy efficiency and thus, a better energy future.
The Rexel Foundation – under the aegis of the Fondation de France – has developed three types of programs to fulfill its purpose: community projects, social innovation projects, academic studies and research.
The actions of the Foundation are guided by four key principles: social innovation, respect for the environment and energy savings, collaboration with multiple partners, and developing repeatable and scalable initiatives.
Find out more in the Rexel Foundation brochure
The Rexel Foundation's impact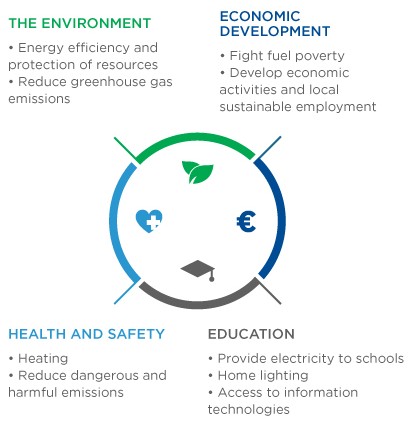 2. COMMUNITY PROJECTS IMPLEMENTATION
Intended to facilitate access to energy efficient solutions of disadvantaged communities, the community projects supported by the Rexel Foundation are delivered through close working partnerships with NGOs, social entrepreneurs, public bodies and other corporate foundations to ensure their relevance and effectiveness.
20
community projects supported by the Rexel Foundation to date
Since its creation in 2013, the Rexel Foundation has supported 20 community projects focused on raising awareness of energy challenges, professional training and renovating the homes of the most disadvantaged populations.
A green 'it' classroom in China
Following the successful project conducted in partnership with Maverlinn and Faurecia in 2014, the Rexel Foundation decided to partner with Netspring to support the energy transition of a new remote school in rural China.
Located 650 km south of the capital of the province of Henan, in a region with unreliable energy access, Shuikoumiao de Lijiazhai elementary school has 211 students between the ages of 6-12, as well as 12 teachers. The school is a veritable home away from home for these children, most of whom can only visit their families once per year.
The project, initiated by local Rexel teams in China and funded by the Rexel Foundation, aims to equip the school with a solar power station in order to provide electricity and hot water. The project also includes the creation of a green IT classroom connected to the Internet, which will give students the opportunity to acquire indispensable computer skills and discover the world.
Emergency aid to rebuild Nepalese villages devastated by the 2015 earthquake
"Electricians without borders" is a non-profit organization with more than 30 years' experience in providing access to energy. In the aftermath of the devastating earthquake that hit the Laprak Valley in Nepal on April 25, 2015, its work in bringing long-term aid to local communities was supported directly by the Rexel Foundation. With the central aim of providing housing and rebuilding villages, the aid mission enabled the distribution of 3,000 lighting kits to rehoused families, and the installation of more than a hundred public lighting points (solar lamps) in strategic locations around the villages and refugee camps.
Electrical industry information and training for young people
Under the aegis of the anti-exclusion foundation FACE, the Teknik Foundation aims to create interest in technology and industry amongst students from disadvantaged backgrounds, bring together a large pool of employable young people and facilitate their inclusion in society. The Rexel Foundation is involved in this nationwide project (covering 6 out of 13 regions of France to include more than 100,000 young people over 5 years) with the help of Group employees in developing training modules and leading training sessions for junior high students. Resources like 3D image manipulation using the Cubtile Digital learning tool will enable students to create visual representations of home electrical systems.
100,000
people have been positively impacted by Foundation initiatives since its creation in 2013
Find out more about the Foundation's community projects
3. SOCIAL INNOVATION IN SUPPORT OF ENERGY PROGRESS
Created in 2014, the Rexel Foundation's joint skills Platform for Social Entrepreneurs is intended to accelerate the spread of energy progress by supporting socially innovative projects. Now that the initial missions are underway, the network is expanding.
14
social entrepreneurs currently registered with the Platform
The platform for social entrepreneurs
The Rexel social entrepreneurship Platform brings social entrepreneurs leading energy efficiency projects face-to-face with sponsors. The Rexel Foundation is involved at every stage of the process, helping entrepreneurs to identify sponsors with the ability to deliver the support they need at an early stage and monitoring every step of the project as it progresses.
Designed as an inclusive initiative, the Platform currently includes entrepreneurs from France, Belgium, the UK and Finland. Project sponsors include the Rexel Group and its subsidiaries, as well as partner companies, non-profit associations and public institutions.
For instance, the platform led to:
The creation of a press kit and strategy for Ti'éole, a non-profit organization that trains individuals and businesses to manufacture and operate wind turbines;
Financing for the development of a training tool to accompany the energy retrofitting initiative for single family homes led by Institut negaWatt;
Support for Les 7 Vents, cooperative community-oriented enterprise involved in an ambitious renovation project called RENO 3.0 to design a demonstration building featuring the most effective new energy solutions.
«The Rexel Foundation supports us by financing the studies for the eco-design of the buildings, as well as through skills patronage. We are therefore benefitting from advice as well as building design methods, such as a functional model bill of specifications. »
-Florian Guillote, European projects and Innovation Manager, Les 7 Vents
Supporting communities in fuel poverty in the UK
Low-income communities on the south coast of England are particularly badly hit by fuel poverty (13% of the population). Supported by the Rexel Foundation, the social enterprise Energise Sussex Coast assists low-income households to reduce their energy consumption, and fulfills a wider mission to raise individual awareness and promote the exchange of good practices.
600
energy advisers trained
400
energy packs distributed
1,500
people advised on how to cut their energy bills
Developing a long-term energy renovation model for vulnerable joint ownership housing
The Enterprise and Poverty Action Tank run by the HEC business school is a research/action project to finance and renovate joint ownership housing deteriorated by urban densification. Its aim is to develop a sustainable economic model for building renovation in response to the French Housing Ministry's identification of vulnerable joint ownership housing as a flagship priority, and to raise householder awareness of energy good practices. Using full-scale experimentation, Action Tank members are offering a sustainable and repeatable large-scale economic model. Its results are being measured using a social and environmental impact study conducted by IM'PROVE and funded by the Rexel Foundation.
Find out more about the social entrepreneurship Platform
4. IMPROVING KNOWLEDGE AND AWARENESS
The Rexel Foundation finances studies and research programs to expand knowledge about energy efficiency and its associated innovations, as part of facilitating changes in energy consumption habits and behaviors.
Support for academic research
The Rexel Foundation contributes to the financing of research programs and educational projects through grants awarded to students and researchers.
At the University of Colorado Denver, the Rexel Foundation funded a research project on thermal comfort in commercial buildings.
Rexel's Canadian subsidiary is providing research funding for a PhD from Nova Scotia Community College on the optimization of energy distribution.
Since January 2015, the Foundation has been contributing to a study by Stanford University in California to quantify the economic effects of American environmental policy on the housing market.
Shared knowledge
The Rexel Foundation contributes to the spread of knowledge by funding studies that investigate the challenges of energy efficiency.
The Rexel Foundation supports the EcoBlock experiment in Oakland (California), an applied research program centered on city retrofitting which aims to test the hypothesis that retrofitting on the block-scale is more efficient than the individual house-scale because it combines the flows and efficiencies across multiple units.
In partnership with the University of Colorado Denver, the Rexel Foundation is also providing funding for research seeking to develop a thermal comfort metric for commercial buildings. The aim of the research is to create a new method to evaluate thermal comfort of building occupants, based on existing sensors and smartphone technology, and to provide feedback to building owners and operators for improving building energy performance.
Find out more about de knowledge programs of the Foundation
5. OUR EMPLOYEES' PROJECTS
The Rexel Foundation encourages Rexel employees to further engage in its activities.
One way to support the initiatives of the Foundation is to sponsor a community project in line with the Foundation's mission.
Rexel employees support social and professionnal integration through sports
Rexel supports the association Sport dans la ville ("Sport in the City") by installing lighting in four sports centers located in disadvantaged urban areas in France. This lighting will allow the centres to play host to night-time sports sessions and help to recruit and retain young people in addition to the more traditional employability schemes offered by the association such as Job dans la ville ("Job in the City").
Rexel employees in Asia-Pacific support a green energy project to help a remote community in Cambodia
Rexel employees in Asia-Pacific have taken action alongside WISS (Western International School of Shangai) and the NGO PAPA (Partnering Against Poverty Association) Cambodia to strengthen the electrical production capabilities of the village of Preah Dak, located in Cambodia's Siam Reap region. This project was the 3rd Prize Winner of the "Rexel Foundation and Employees Award", which was launched during EcoDays, a Rexel Group initiative to promote community projects supported by employees. The prize helped fund the installation of solar PV panels.
Find out more about our employees' projects
6. REXEL'S SOCIAL COMMITMENT
In addition to the Foundation, the Group and its subsidiaries have been leading community initiatives among local disadvantaged populations for years, building a long-term social engagement. A dedicated Group team leads this work, which was formalized in 2012 by the Group Community Involvement Charter, that identifies its territory, methodology, and principle founders, and the practical guide for subsidiaries, to give them an action plan advice and decision making tools.
Employees contribute fully to Rexel social engagement: by their growing participation every year in Foundation activities and by their financial support of certain initiatives.
In 2015, one in five employees participated in salary rounding, a voluntary salary donations program offered by two Rexel French subsidiaries, partnering with MicroDON, a social enterprise.