Engaging and supporting our employees
Employee engagement plays a major role in Rexel's success. Therefore, human resources policies developed by the Group subsidiaries are implemented within a Group-wide social responsibility framework. Based on universal human rights, as well as on practical and common values, these policies cover skills development, security and well-being at work, equal opportunity, social dialog and employee association in the Group's performance.
---
1. Supporting employee career development
2. Promoting health and safety at work
3. Promoting equal opportunity
4. Maintaining a fruitful social dialogue
5. Associating employees in the Group's performance
---
Rexel operates in a transitioning environment and in a highly competitive market. Its organization, its professions, its products and its services are changing. Its employees are key players in this transformation and the Group is committed to involving them long-term in its new road map.
The Rexel promise to boost employee engagement
The best performing and most innovative companies are those in which the employees are the most engaged. With the knowledge that behind every successful customer experience are employees who care about their company, and a stimulating work environment that fosters well-being, Rexel has placed these concepts at the heart of its human resources policy, and regularly conducts internal opinion surveys to measure and consolidate the nature of employee engagement.
In 2014, Rexel wanted to go a step further and analyze employee perception of the key components of the Group's identity. Thirteen focus groups, representing various positions and managerial levels, were created in ten countries. The goal: identify the DNA of Rexel's employer brand. This exploration led to the development of Rexel's Employee Value Proposition, shared with all Group employees beginning in June 2015. It is built around five key promises chosen to represent the actual experience of Group employees:
Think ahead
Work with a great team
Make a personal impact
Learn from the best
Earn the career you want
Find out more about the 5 reasons to join Rexel
1. SUPPORTING EMPLOYEE CAREER DEVELOPMENT
Skills development is a key component of employee engagement and is essential to the Group's transformation. Therefore, Rexel puts human capital and the support of career development at the heart of its human resources policy.
Training
Career development is a key element of the Group's transformation. The launch of the Rexel Academy is integral to this dynamic approach. Its goal is to support the Group in refocusing on customers, promoting commitment to Group values and collaborative work, while developing the technical skills and managerial abilities of its employees.
The Rexel Academy is a corporate university designed as a blended, digital learning platform accessible to everyone in the Group. It offers all employees opportunities in the following formats: e-learning modules, quizzes and self-evaluation tests, massive Online Open Courses (MOOCs), multimedia documentary resources, classroom training courses.
By pooling training content and resources at Group level, the Rexel Academy brings a new level of consistency and the opportunity to design custom training programs that meet specific needs (in terms of location, managerial level or even job skills) with the ambition of complementing traditional training formats.
Annual interviews
In order to achieve their full potential, employees must be able to take advantage of career development opportunities as they arise, and discuss them with their manager. And because skills evaluation and mobility management are fundamental to achieving this goal, Rexel strives to provide annual interviews for all Group employees on a proactive basis. In 2015, 71.3% of Group employees were given annual interviews.
2. PROMOTING HEALTH AND SAFETY AT WORK
The Rexel Group guarantees its employees' right to a healthy and safe workplace environment worldwide. Each country in which Rexel operates is responsible for managing health and safety risks in compliance with local regulations and the principles of the Ethics Guide.
Our commitments
→ To protect our employees worldwide in their right to a safe and healthy workplace environment and to standardize best practices across the board.
→ To strive to improve working conditions, in particular through better social benefits.
Safety at Rexel
Going above and beyond its legal obligations the Group guarantees its employees' right to a healthy and safe workplace environment worldwide. The safety of the Group's employees and all its stakeholders has always been a priority for Rexel. It is an integral part of good governance and demonstrates Rexel's commitment to social responsibility.
Rexel ensures that a responsible, efficient and coherent safety strategy is in place across every location in which it operates, safeguarding employees against work-related risks, the most common of which relate to driving, falls, operating machinery, material handling, cable work and computer-related work.
In order to reinforce the safety culture and practices across the Group, Rexel's Group-wide safety policy builds on and complements existing local policies and procedures, and promotes a common safety framework for Rexel worldwide. The Group-wide safety policy aims to provide a safe workplace environment worldwide, create a culture of accountability and drive employee engagement through the exchange of best practice.
The Rexel Group safety policy
PDF — 97 KB
Download
12,000
Rexel employees received safety training in 2015
"Be safe. Be responsible."
In 2015 and 2016, the "Be Safe. Be Responsible." communications campaign accompanied the roll-out of a Group-wide safety strategy and targeted all Rexel employees worldwide. The Rexel Group safety communications campaign has been designed to ensure a consistent global identity for safety at Rexel that every employee recognizes and can be proud of.
With this campaign, Rexel's goal is to keep reinforcing its safety culture and ensuring that, everywhere the Group operates, it respects common safety principles. "Be Safe. Be Responsible." is the core message of this campaign, appealing to everyone's sense of responsibility.
Every one of Rexel's managers and employees has a role to play to make the Group an ever-safer place to work.
The 3 key objectives of the campaign were to increase visibility and awareness of safety at Rexel, build understanding and commitment to Rexel's 10 Safety Principles, encourage safe behavior and safe practices in our everyday work across every location in which we operate.
The campaign has been deployed across all distribution centers, branches, offices and headquarters.
Rexel's 10 Safety Principles
In 2015, Rexel established the 10 Safety Principles to standardize the way the Group communicates about its safety priorities. The 10 Safety Principles help to establish a common approach to safety and instill common standards of behavior and responsibility among all Rexel employees. They address the most common hazards and the associated risks that Rexel employees are exposed to in their line of business.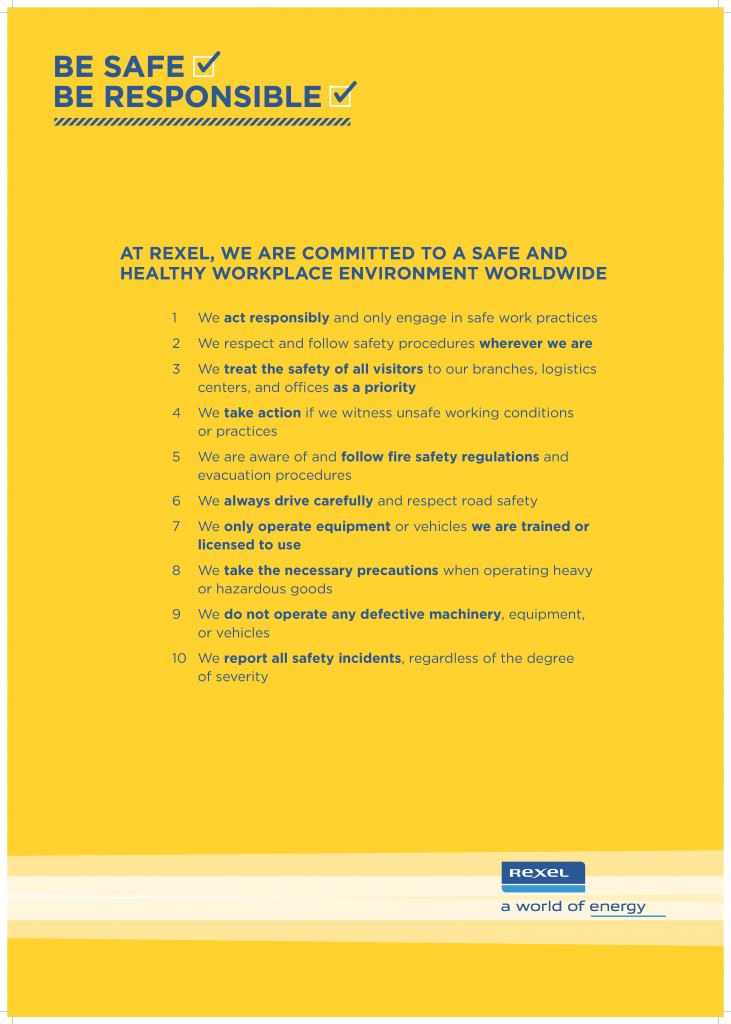 A guaranteed minimum social protection standard
Rexel strives to guarantee the right of its employees to healthcare worldwide. In most of its operating countries, the Group offers healthcare and disability insurance policies in addition to the mandatory coverage stipulated by law.
---
Rexel Plus Protection for All
The Group has also established a minimum coverage standard for work-related accidents: Rexel Plus Protection for All. Launched in 2010, this locally managed program covers 4 countries*, with nearly 4,100 employees insured.
*4 countries: Austria, Hungary, Luxembourg, UK
---
3. PROMOTING EQUAL OPPORTUNITY
Individual dignity and respect for individuals are fundamental principles of our Ethics Guide. Rexel is fully committed to excluding any form of discrimination whatsoever and promoting equal opportunities in terms of recruitment, training, compensation, appointment and career development.
Gender equality
The Group is committed to guaranteeing the equal treatment of men and women, on a comparable basis and in every respect, including hiring, compensation, career development, training, etc. The low proportion of women in the specialized distribution industry as a whole is reflected in the profile of Rexel employees, only 23.2% of whom are women.
Rexel stands out in the gender balance of its leadership bodies. The Group was runner-up for "most improved" in the 2014 ranking of best gender balance in top management among companies in the SBF 120 French stock market index, which was sponsored by the French Ministry of Women's Rights.
To date, women account for 50% of Rexel's Board of Directors.
Integrating workers with disabilities
The percentage of disabled employees at Rexel is 1%. Rexel France signed an agreement in 2013 to encourage the hiring of workers with disabilities. This agreement is based primarily on strengthening recruitment partnerships and participating in all job fairs for the disabled.
Rexel also operates a voluntary integration policy: each newly hired worker with a disability receives an integration plan, employees with health problems are offered solutions to help them keep their jobs and disability awareness days are organized for managers, employees and members of the health, safety and working conditions committee (CHSCT).
4. MAINTAINING A FRUITFUL SOCIAL DIALOGUE
The principles of freedom of expression and labor union representation are integral to the Ethics Guide and guaranteed by Rexel, which builds with its employees an ongoing constructive dialogue on topics of mutual interest.
The European Works Council: a key part of social dialogue
Introduced in 2005, the European Works Council (EWC) plays an important role in social dialogue and the sharing of best practices at Group level, and its contributions are shared with all of the subsidiaries' Human Resources Departments. In 2014, the EWC made workshop contributions on a series of issues, including ethics, annual interviews, and the Rexel Foundation.
Employee representatives
968
employees are involved in representative bodies (3.6% of the total full-time labor force)
Rexel understands that respecting freedom of expression is fundamental to high-quality social dialogue and made supplying the necessary information and resources to employee representatives a central principle of its Ethics Guide. The issues discussed by employee representative bodies focus primarily on Rexel's strategic development, its business activities, its employment, training, and health and safety policies.
---
Focus on UK Employee Forums
The Employee Forums introduced in the UK in 2013 are employee representative bodies whose members are elected to represent their colleagues. Forum meetings are held regularly to discuss business issues and employee benefits.
---
5. ASSOCIATING EMPLOYEES IN THE GROUP'S PERFORMANCE
Built on personal and collective performance, the Group's compensation policy is designed to reward employee involvement, consolidate their commitment and motivate them by offering preferential conditions for becoming shareholders.
Rewarding personal and collective performance
At Rexel, the levels of compensation are defined for each country to meet the specific requirements of competitiveness and internal equality. The compensation policy is based on the company's performance and earnings, in order to reward employee involvement individually and collectively.
55.6%
of Rexel's employees with permanent positions are eligible for variable compensation
50%
of the Group's employees are part of a profit-sharing plan calculated based on collective earnings
Opportunity, Rexel's employee shareholding policy
Since Rexel's listing on the stock market in 2007, five employee share purchase plans have been offered. Reserved exclusively for employees, these plans offered the opportunity to acquire Rexel shares under preferential conditions, with a matching employer contribution. The aim of these plans is to involve employees in the Group performance and increase the level of employee shareholding to encourage and consolidate employee commitment.
The most recent plan – Opportunity16 – was offered to more than 80% of Group employees in 14 countries.